Votre séjour en Croatie est unique ; notre expertise l'est aussi! Pour mieux préparer vos vacances, consultez le guide voyage Croatie et téléchargez les Ebooks gratuits : conseils pratiques, idées de visites et bonnes adresses.  
Where do you go to visit Serbia from Belgrade? Which are the best and most intersting and pleasant excursions to discover the authenticity of Serbia? Here you can find Aleksandar's suggestions for tourists who want to appreciate the diversity in Serbia.

Fruska Gora national park and orthodox monasteries

Across an area 50 km long and 10 km wide, in the Fruška Gora hills in the district of Srem, there are 16 Serbian Orthodox monasteries built in the late Middle Ages, when the focal point of Serbian culture migrated under pressure from Turkish attack to an area situated in what was then the southern Kingdom of Hungary. This region of unique culture and historical value has been designated a cultural property of exceptional importance to Serbia.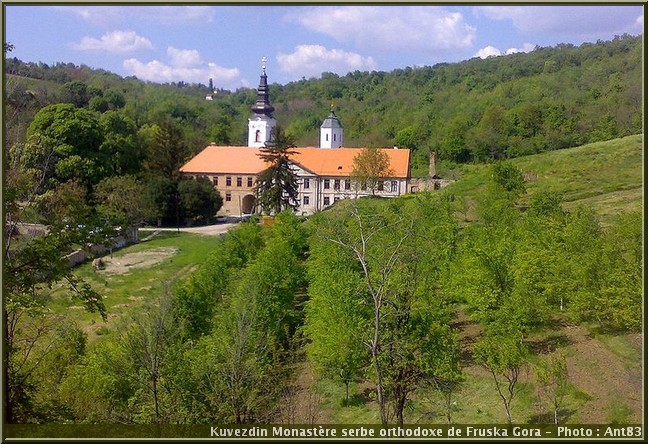 Most of the monasteries were built under the influence of the Morava and Raška schools of architecture and over time have been significantly renovated. Renovation work resulted in churches gaining tall, multilevel bell-towers with baroque decorations, and interiors decorated in large, complex Baroque iconostases, painted by the greatest Serbian artists of the day.
Their turbulent past, their architectural and artistic beauty, and their special role as a spiritual focal point of the Serbian people all contributed to the great importance of the monasteries within the cultural and historical heritage of Serbia. The general area of Fruška Gora has been rich in religious sites since ancient times, and during the 16th and 17th centuries 35 monasteries were recorded here. From their founding, these monasteries have been robbed, demolished and abandoned countless times, with the worst destruction inflicted during the Second World War. Several monasteries were also seriously damaged during the NATO bombing in 1999.
Travelling from west to east we find the monasteries of Privina Glava, Divša, Kuveždin, Petkovica, Šišatovac, Bešenovo, Mala Remeta, Beočin, Rakovac, Jazak, Vrdnik, Staro Hopovo, Novo Hopovo, Grgeteg, Velika Remeta and Krušedol.
Rural households and salaš tourist farms near Srem Mitrovica
Toša's House
Introducing to the cultural and economic tradition of the villages of Srem as well as to the gastronomic offer consisting of the traditional dishes from Srem.
Address: Školska 16
22,426 Jarak
Telephone number: +381 (0)22 662 465
Telephone/fax +381 (0)22 662 258
Mobile phone number: +381 (0)64 187 40 44
Ethno House Zmaj od Noćaja
Accommodation, home-made food, ethno exhibition.
Mačvanska Mitrovica
Address: Cara Lazara 3
Telephone number: 022 650 077
Mobile phone number: 064 21 58 223
Site ethno house Zmaj od Noćaja
Zasavica
Accommodation, home-made food and drink, haiduk games, tambura bands, possibility to organize a tour of Zasavica Reserve
Telephone number: 022 659 504
Mobile phone number: 065 822 96 71, 060 659 50 44
Farm Household Čavić
Address: Pobeda 50
Čalma
single day tours, excursions to Kuveždin Monastery
Telephone number: 022 685 603
Mobile phone number: 064 296 40 43
E-mail: domcavic@ptt.rs
Farm Household  Lekin Salaš
Salaš Noćajski
sportfishing, horse riding, riding in a gig, tours of the area, restaurant
Mobile phone number: 066 521 42 49
Special Natural Reserve Obedska bara in the Municipality Obrež
The special bioreserve "Obedska bara" is a natural good of utmost importance, located in Vojvodina, in the southeastern part of Srem, on the territory of the municipalities Ruma and Pećinci, between the settlements Kupinovo, Obrež, Grabovci and the Sava river, only 40 km west of Belgrade.
The special bioreserve stretches over an area of 9.820 ha, and the protected zone over an area of 19.611 ha. "Obedska bara" is a natural pond evolved from an abandoned meander of the Sava River, to which it is presently connected by the Vok channel. It is 13.5 km long and 750 meters wide. It is the largest floodplain in Serbia, an authentic mosaic of forest, marsh, swamp and grassland habitats with a very rich flora and fauna.
An extraordinary richness of species and diversity of ecosystem in the "Obedska bara" rare its core value with more than 30 water, forest and grassland communities. In the bioreserve, 180 mushroom species, around 50 moss species and 500 species of taller plants, over 200 zooplanktons, 300 insect fauna, 16 fish species, 13 amphibians, 11 reptiles, 222 birds and 50 mammals have been recorded. Lately, the species European beaver (Castor fiber) has been introduced in "Obedska bara".
In the eastern part of the bioreserve stand the ruins of the medieval fortress Kupinka, built in 1388, which was once the seat of the Serbian despot rulers in the 14th and 15th century. Further, there are also the remains of the Obed monastery as well as the St. Luke Church built in 1451, the oldest preserved orthodox church in Vojvodina. Apart from the protected ethno complex, there are also numerous Neolithic sites in the vicinity of the pond.
Being a remarkable natural phenomenon, "Obedska bara" has been under protection since 1874, when it was proclaimed to be Imperial hunting ground by the Austrian Hungarian Court. The current status of a special bioreserve was issued in 1994 by a decree of the Government of the Republic of Serbia.
Since 1977, it has been inscribed on the UNESCO Ramsar List of Wetlands of International Importance, in 1989 it was classified as an area of special importance for birds in Europe, and since 2005 it has been also listed as one of the areas of great importance for flora.
Of course, many of these destinations, but here's the first one Sremska Mitrovice. Instead of my descriptions here are some links:
Sirmium and Zasavica.
Les derniers articles par Aleksandar Dekanski
(tout voir)